Hunger Games - La Révolte : Partie 2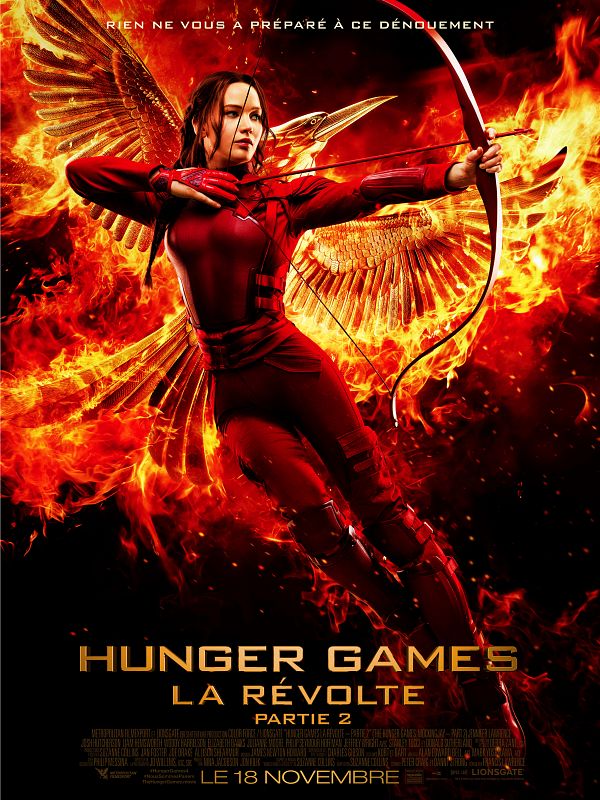 Origine : U.S.A.
Réalisateur : Francis Lawrence
Acteurs : Jennifer Lawrence, Josh Hutcherson, Liam Hemsworth, Woody Harrelson, Elizabeth Banks
Genre : Aventure, Science fiction, Guerre
Durée : 2h 17min
Date de sortie : 18 Novembre 2015
Année de production : 2015
Titre original : The Hunger Games - Mockingjay: Part 2
Critiques Spectateurs :
3.4
Critiques Presses :
3.0
Plus d'information sur allocine : http://www.allocine.fr/film/fichefilm_gen_cfilm=204925.html
Bande annonce : Hunger Games – La Révolte : Partie 2 Bande-annonce finale VF, Hunger Games – La Révolte : Partie 2 Bande-annonce VF




Alors que Panem est ravagé par une guerre désormais totale, Katniss et le Président Snow vont s'affronter pour la dernière fois. Katniss et ses plus proches amis – Gale, Finnick, et Peeta – sont envoyés en mission pour le District 13 : ils vont risquer leur vie pour tenter d'assassiner le Président Snow, qui s'est juré de détruire Katniss. Les pièges mortels, les ennemis et les choix déchirants qui attendent Katniss seront des épreuves bien pires que tout ce qu'elle a déjà pu affronter dans l'arène…


Qualité : HDTS
Format : Avi
Langue :

True French
Codec vidéo : XviD
Tailles des fichiers : 1 x 1400 Mo
Nom de la release : The.Hunger.Games-Mockingjay.Part.2.2015.TRUEFRENCH.HDTS.XviD.TDMS
Taille totale : 1400 Mo




http://uploaded.net/file/bh1e2rnc

http://rapidgator.net/file/fbffddf4ff35e17ddff0670940a6c81b

http://turbobit.net/dr7asba7dzsk.html

https://1fichier.com/?pzy824ysvq
Téléchargement direct: Usenet.Nl
vu: 667
commentaire (0)
Sujets similaires:
Information
Users of Invit? are not allowed to comment this publication.