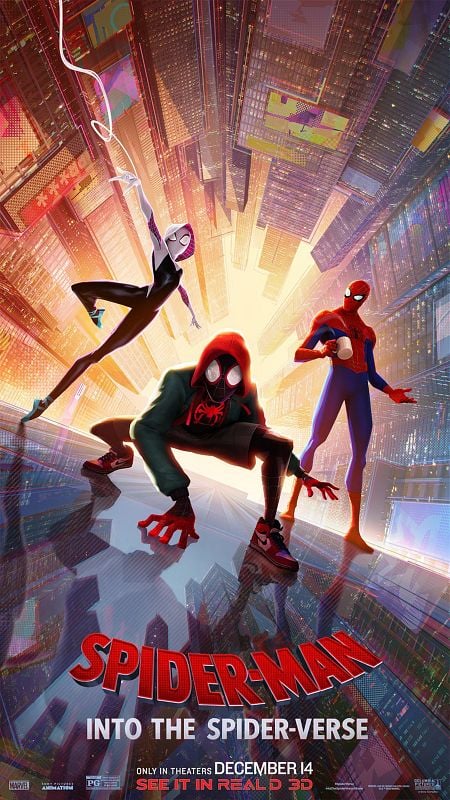 Origine : U.S.A.
Réalisateur : Bob Persichetti, Peter Ramsey, Rodney Rothman
Acteurs : Stéphane Bak, Jake Johnson (XVI), Camélia Jordana, Mahershala Ali, Brian Tyree Henry
Genre : Animation, Action, Famille
Durée : 1h 57min
Date de sortie : 12 Décembre 2018
Année de production : 2018
Titre original : Spider-Man: Into the Spider-Verse


Spider-Man : New Generation suit les aventures de Miles Morales, un adolescent afro-américain et portoricain qui vit à Brooklyn et s'efforce de s'intégrer dans son nouveau collège à Manhattan. Mais la vie de Miles se complique quand il se fait mordre par une araignée radioactive et se découvre des super-pouvoirs : il est désormais capable d'empoisonner ses adversaires, de se camoufler, de coller littéralement aux murs et aux plafonds ; son ouïe est démultipliée... Dans le même temps, le plus redoutable cerveau criminel de la ville, le Caïd, a mis au point un accélérateur de particules nucléaires capable d'ouvrir un portail sur d'autres univers. Son invention va provoquer l'arrivée de plusieurs autres versions de Spider-Man dans le monde de Miles, dont un Peter Parker plus âgé, Spider-Gwen, Spider-Man Noir, Spider-Cochon et Peni Parker, venue d'un dessin animé japonais.

Qualité : BDRIP
Langue :

True French,

Français
Codec vidéo : XviD
Codec audio : AC3




Découpage : Aucun
vu: 105
commentaire (0)
Sujets similaires:
Information
Users of Invit? are not allowed to comment this publication.